Why Seniors Should Swim in Saltwater Pools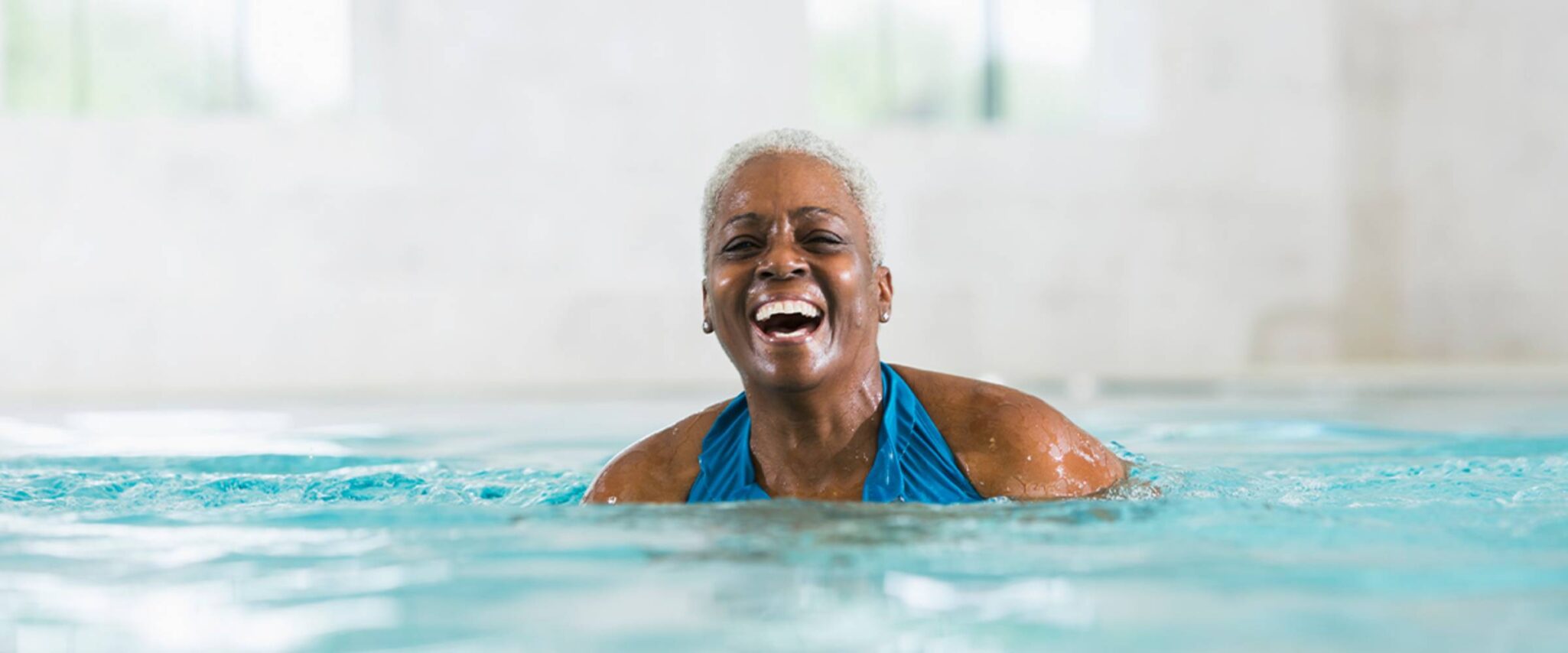 The Benefits of Swimming For Seniors
There are few activities better for your health than swimming. It strengthens your heart and lungs, and burns almost as many calories as running, without wear and tear on your joints. In addition to being a good cardio workout, swimming works all the muscle groups in your body, so it's a great way to build strength.You're also less likely to hurt yourself in the pool. Water supports your limbs, whether you're swimming laps, doing aquarobics or playing water volleyball. If you do lose your footing in the pool, physics ensure you won't fall hard. The only bruise you may suffer is to your ego.
Chlorine vs. Saltwater Pools
Ever come out of a pool looking down in wonder at the wrinkles on the pads of your fingers through burning, red-rimmed eyes? Or felt a scorching sensation in the back of your throat after a session in an indoor pool? That's the chlorine used to kill bacteria in the water. It works really well to protect you from harmful bacteria, but it's a harsh chemical that does a number on your skin, eyes and throat. It also makes your hair brittle and can turn blonde hair green. And that stylish swimsuit that flattered you in the mirror? Chlorine will bleach the color out of it, break down fibers and leave you with a dull, saggy excuse no longer fit to wear in public. Fortunately, there's a better way to make pool water safe without the harmful side effects of chlorine.
The Benefits of a Saltwater Pool
The water in a saltwater pool isn't really saltwater. In fact, it's about one-tenth of the salinity of saltwater. That's about the same salinity as a human tear, which explains why getting water in your eyes in a saltwater pool doesn't irritate your eyes.The salt in a saltwater pool is hardly detectable. Most people can't smell or taste it. That signature chemical smell from traditional chlorinated pools results from a mix of chlorine and ammonia. The vapor from the evaporation of that toxic mix is what causes itchy throats and runny noses, especially in people who suffer from asthma or allergies. Switch to a saltwater pool, and you won't have to give up the benefits of swimming for seniors.Saltwater pools are also gentler on your skin. Older skin is thinner, more sensitive and prone to dryness. Chlorinated water dries your skin, stripping its natural oils and leaving your skin worse for wear. The water in a saltwater pool feels softer and silkier to the skin than chlorinated water. Some swimmers notice a gentle smoothing and exfoliating effect from saltwater. It may even help with conditions such as eczema and psoriasis.
Get in the swim at The Village at Gleannloch Farms
A heated outdoor saltwater pool is just one way we make life healthier and more enjoyable. From a choice of maintenance-free apartments and cottages to a host of life-enriching amenities and services, independent living at The Village at Gleannloch Farms is designed to help you live your best life. For a deeper dive into our lifestyle, use our contact form or call 281-766-8148. We're always happy to answer your questions or arrange a virtual tour.