How to Create a Blooming Container Garden with Native Texas Plants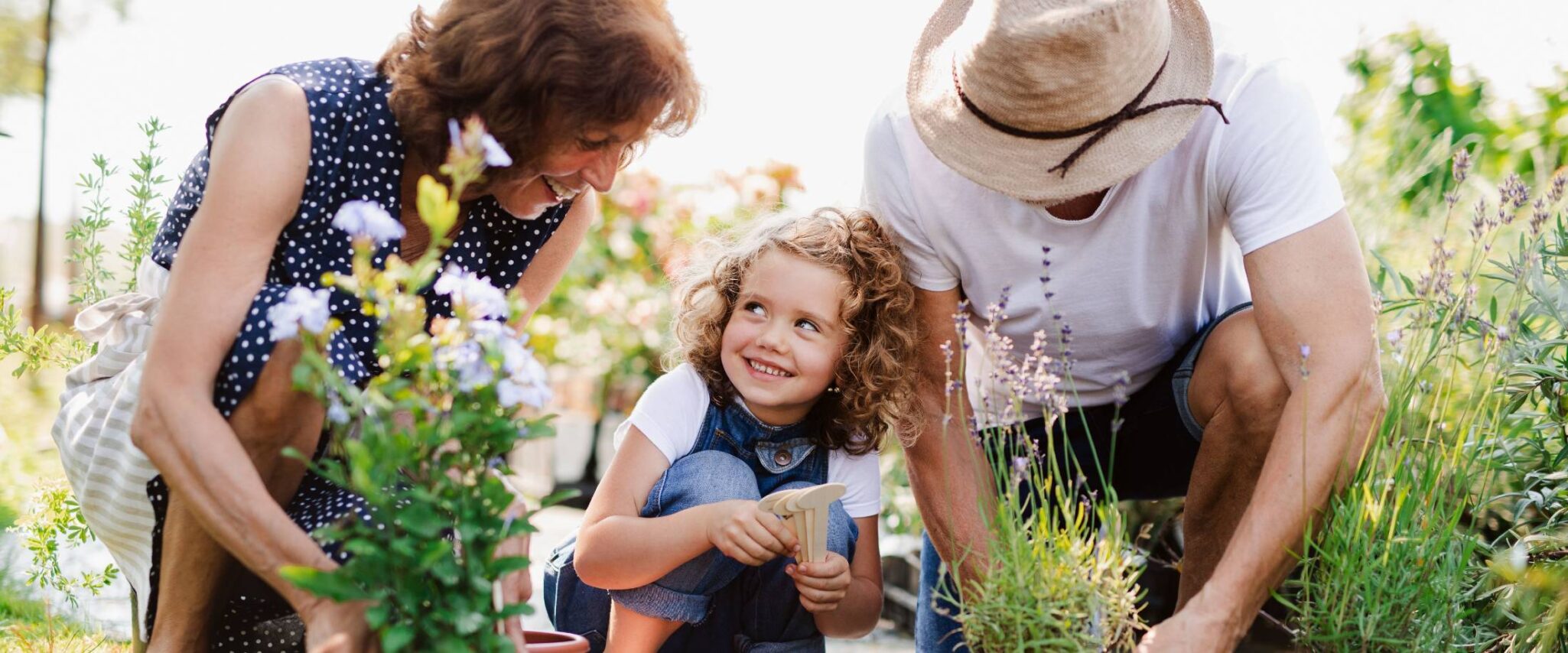 Living in a senior apartment doesn't mean you have to give up gardening or that it's too late to develop a green thumb. Whether you're new to planting or a seasoned expert, container gardening is ideal for seniors, even if you have arthritis. Follow these container gardening tips and it won't be long before you're creating your own flourishing garden.
Types of Containers
Most vegetables, flowers, herbs, shrubs or small trees can grow and thrive in a container.For distinctive and colorful effects, combine upright and trailing plants, edibles and flowers. When it comes to types of containers, anything that holds soil and drains can be used — so get creative!
Clay, terra cotta, ceramic and cast concrete: Teapots, stacked teacups, saucers, urns, pots, planters, bowls, cinder blocks.
Metals: Antique birdcages, kettles, buckets, lunchboxes, cake tier stands, watering cans, paint cans, colanders, wire dress forms, old horse buggies, toolboxes, little red wagons, vintage toy trucks.
Wood: Old chairs, farmhouse doors and garden ladders, hanging picture frames, window frames, birdhouses, pallets, tree stumps.
Other: Chandeliers; vintage tubs; old Wellington boots; wine corks; painted car tires; and antique, vintage, and modern wheelbarrows and wheeled carts.
Use Native Texas Plants
One of the best container gardening tips is to use plants native to the area you live in. With the hot, humid and storm-prone summers of Texas, attractive and functional native plants are your best bet for container gardening success. They're naturally adapted to preexisting weather conditions, which means they're drought-, heat- and stress-tolerant. They also require less maintenance and water than nonnative varieties.In addition to helping you save time and money, native Texas plants are more sustainable and beneficial to wildlife and the surrounding natural habitat of your senior apartment. 
List of Texas Native Plants for Containers
Here are some tree, shrub, grass and flower Texas native plants to consider.
Autumn Sage: This good food source for hummingbirds has red flowers that bloom continuously from late spring until hard frost. A tough, drought-tolerant perennial with pale green small leaves that prefers full to part sun.
Black-Eyed Susan: A cheerful perennial winner in any Texas garden. These drought-tolerant golden yellow flowers with black centers offer long-lasting and continuous blooms.
Eastern Purple Coneflower: These drought-tolerant butterfly magnets will perform well in your garden. Their iridescent cones bloom soft lavender petals spring through summer.
Gulf Coast Muhly: A native ornamental grass that provides soft, graceful movement and purple spikelets that turn feathery and deep pink in the fall. Its large seed head grows about half as tall as the entire plant.
Inland Sea Oats: A shade-loving and low-maintenance ornamental perennial grass known for its large seed heads and blue-green bamboo-like leaves.
Pride of Houston Yaupon Holly: This small tree is drought-tolerant with dark green leaves and pale gray bark with white blotches. Female plants produce red berries in the winter that are good for wildlife and make beautiful holiday displays.
Red Turk's Cap: This native shrub of Texas and Mexico features bright red hibiscus-like flowers that resemble a Turkish turban (hence the name). Ideal for shady spots.
Red Yucca: Hummingbirds are attracted to these drought-tolerant succulents ready for planting any time of year. They feature small red flowers on drooping large stalks that bloom throughout the summer.
Rock Rose: This flowering plant produces pink and yellow blooms, is deer-resistant and ideal for shady areas.
Southern Wax Myrtle: Featuring attractive gray bark and light olive green foliage, these multi-trunked evergreen shrubs offer a spicy fragrance and are ideal for shielding areas from view.
Texas Lantana: Enjoy yellow and orange flowers that are attractive to butterflies and bloom summer through fall. These flowers are drought-tolerant, salt-tolerant and deer-resistant.
Texas Olive: A fast-growing native tree with continuously blooming large white flowers. This drought-tolerant tree (once it's established) also produces purple fruit enjoyed by wildlife.
15 Container Gardening Tips and Tricks
1. Make sure your pot has a big enough hole or holes for water to get out.
2. Before choosing your plants, know how much light your container will get.
3. Make a list of the plants you want to buy before heading to the nursery. Note the number of pots you'll need and their sizes. Use your phone to take photos of your pots.
4. Read and save plant tags — the information they contain is critical for the plant's success.
5. Always use potting soil over other fillers such as packing peanuts or milk jugs.
6. For your plants to thrive, you'll need to add fertilizer such as Miracle-Gro.
7. Check yard sales, antique shops, and secondhand stores for ideas to display your window box and garden plants.
8. When planting multiple plants in one container, make sure they all need the same amount of light and water.
9. Use light-colored containers for hot climates to help keep the soil cooler.
10. Hanging baskets are more prone to drying out, especially during the summer months. Put them on pulleys for easy watering.
11. When planting a garden on a balcony or patio, be sure to check how much weight the structure can hold.
12. Place large heavy pots on a platform with wheels so they're easier to move.
13. Containers resting on the ground without saucers won't drain as well.
14. There may come a day when you have to say RIP to your green friends. It's a gardening fact of life; sometimes plants die. Know when to keep trying and when it's time to toss it.
15. Container gardens can be enjoyed for one season and discarded or designed to last long-term.
Here at The Village at Gleannloch Farms, we're a community of diggers, garden gurus and green thumbs. You can design your own unique container garden on your porch or patio, and we have an outdoor garden space anyone in the community can use. Contact us today to learn more about how retirement life's a garden at The Village.