How Short-term Rehabilitation Helps Seniors with Parkinson's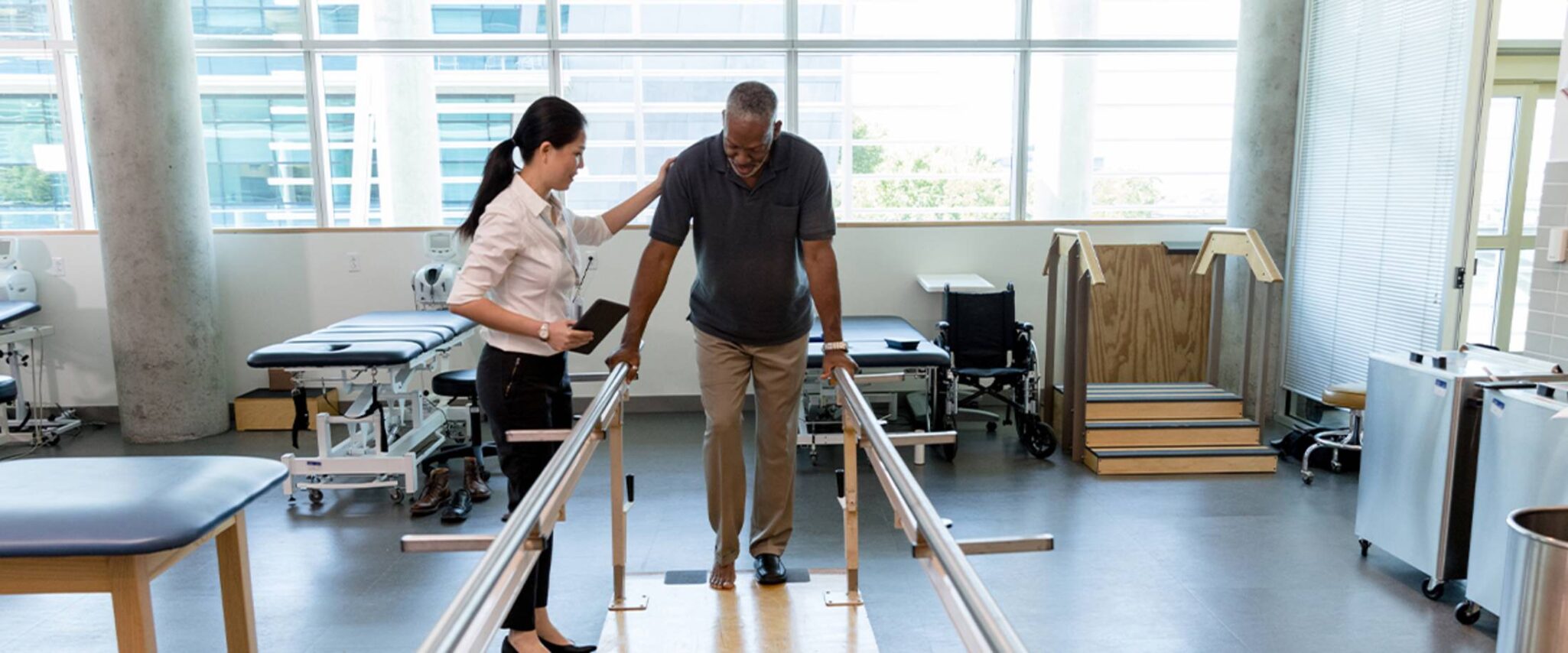 An important part of treatment for seniors with Parkinson's disease is short-term rehabilitation. Designed to improve Parkinson's symptoms such as speech and motor skills, the right therapy program can improve quality of life — at any stage.
Slow the progression of Parkinson's symptoms.
To understand the benefits of short-term rehabilitation for a Parkinson's treatment plan, consider some of the most common Parkinson's symptoms:
  Motor function impairment, such as slower and smaller movements, inability to move, or tremors
  Loss of balance and correct posture
  Loss of voice function, including volume, intonation and articulation
A short-term rehab program for seniors with Parkinson's can help improve these areas of lost ability, through customized treatment that focuses on each individual's unique needs. In addition, many programs such as the one at The Village at Gleannloch Farms include practice exercises once the one-on-one treatment is complete. This will continue to help seniors and their caregivers focus on maximizing function and minimizing safety risks.
Neurorehabilitation is for seniors and caregivers too.
While not as well known as physical therapy, neurorehabilitation, or rehabilitation focused on diseases affecting the brain, is key for Parkinson's treatment. Therapists in neurorehabilitation are specially trained to help treat patients with Parkinson's disease to help them improve functioning. This therapy often also involves the loved ones of those with Parkinson's, who can help their family member or friend regain independence and take an active role in their treatment. Therapists of various specialties, from physical therapy to occupational therapy to speech therapy, are specially trained to help them  improve/maintain function, decrease the impact of symptoms, and improve their quality of life.
Rely on a proven Parkinson's treatment.
Lee Silverman Voice Treatment (LSVT®), developed in the 1980s, is a rehabilitation program specifically for Parkinson's disease therapy that today is known as the highest standard of Parkinson's treatment. First developed to help those with Parkinson's improve their speech and voice function (LSVT ®LOUD), the four-week training program now also includes an approach to help with impaired movement(LSVT® BIG). These proven therapies, delivered by certified clinicians, have been scientifically researched for decades. After completing the program, participants are encouraged to continue practicing the exercises learned, with ongoing support from online videos, community programs and one-off sessions, depending on the prescribed  treatment plan.
Improve communication with LSVT LOUD.
LSVT LOUD refers to the part of LSVT treatment designed to improve the impairments of speech that are common for those with Parkinson's disease or other neurological disorders. Designed to help individuals speak more clearly, more loudly, and retain their swallowing skills, LSVT LOUD exercises are specialized for voice training. This type of Parkinson's therapy can also improve an individual's facial expression abilities, for greater communication overall.
Individual results can include:
Clearer, more intelligible speech
Increased volume of voice
Improved intonation (adding expression to monotone speech)
Greater ability to communicate
Improved self-confidence when moving
Decreased risk of being misunderstood or becoming isolated
Improve mobility with LSVT BIG.
The LSVT BIG treatment approach applies the same principles from LSVT LOUD, but to movement rather than speech. It's focused on helping those with Parkinson's improve their motor functions in a variety of ways, from walking and balancing to simple everyday movements. LSVT BIG is all about retraining how people understand how they perceive their movements and how they actually move.
Program results vary, depending on each individual, but can include:
Improved posture and balance
Bigger steps and movements
Increased mobility
Maintained ability to perform activities of daily living
Improved self-confidence when moving
Decreased risk of falling
Ready to put together a treatment plan? Call us.
At The Village at Gleannloch Farms, our skilled therapy team of experts will develop an individualized treatment plan that's right for you or your loved one, from neurorehabilitation and occupational therapy to dysphagia treatment and physical therapy. Our short-term rehabilitation services are also open to nonresidents. By working together with seniors and their families, our goal is to help those with Parkinson's disease live the best life they can.