Should I Get In-Home Care or Choose Assisted Living?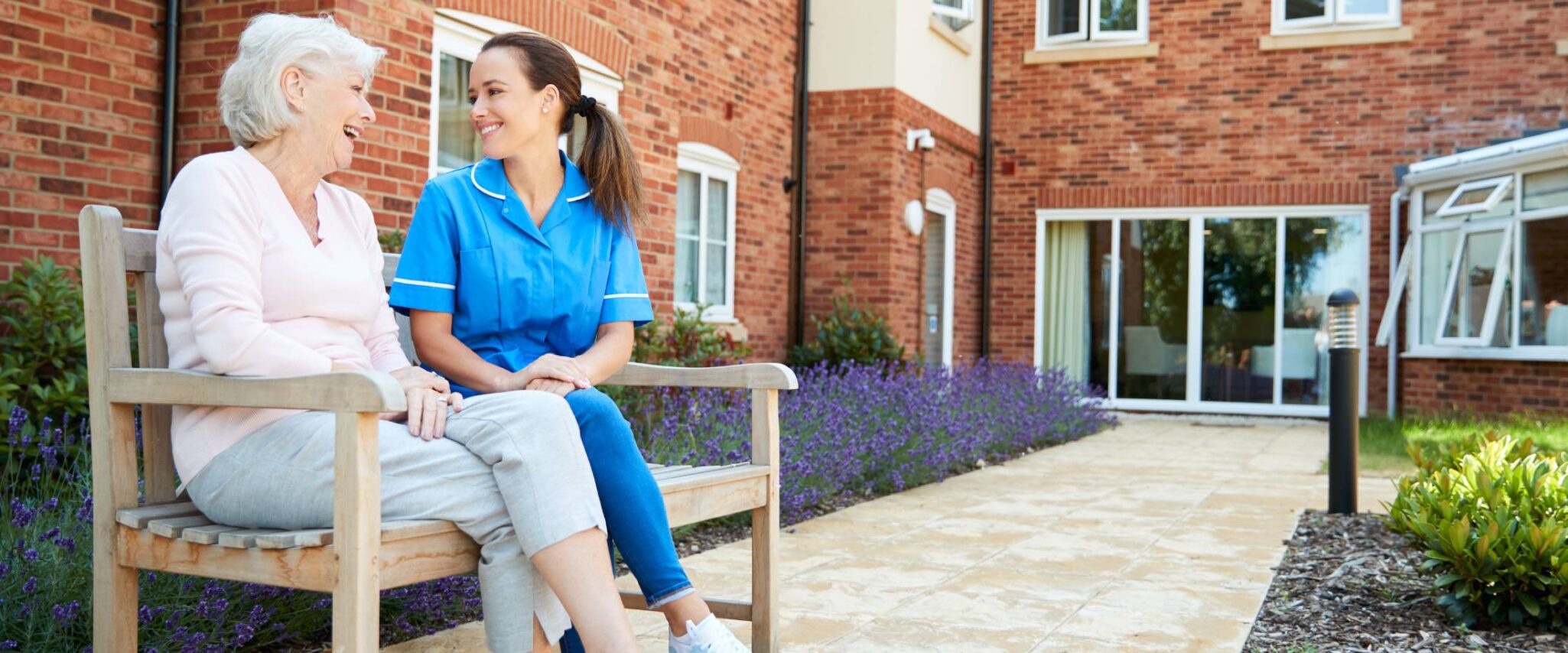 As the aging population grows in the United States, more and more seniors are faced with the decision of whether to use home care or move to an assisted living community. Assisted living vs. in-home care is a complicated decision, and it's not as simple as staying put at home or moving to an assisted living community.  The decision is far from a one-size-fits-all situation, and there are a variety of positives and negatives for each option. This blog post will help you weigh the pros and cons of choosing between home care and assisted living for yourself or a loved one..
Pros of Assisted Living
More Affordable Around-the-Clock Care
When you or your loved one needs 24/7  care, an assisted living community is generally a more affordable option than in-home care. According to Genworth studies, in 2021, the median monthly assisted living cost is $4,429 or $53,148  annually. In comparison, the median home care cost for 24/7  care can be up to around $17,500 per month. Assisted living cost in a continuing care retirement community (CCRC) may be more than the national median, but has the added benefit of having all care costs completely covered for as long as you live in the community, and the ability to move to higher levels of care if needed.
Services & Amenities
One of the most significant advantages to living in an assisted living community is that residents have access to a wide range of services and amenities beyond standard care. In addition to assistance with activities of daily living, you can typically expect personal services such as scheduled transportation, concierge service, weekly house cleaning, and laundry and linen services. Many assisted living communities also offer engaging fitness, social and recreational activity programs to help residents maintain an active and fulfilling lifestyle. Plus, they typically have a  range of inviting amenities that may include restaurant-style dining venues, heated pools, libraries, arts and crafts studios, putting greens, chapels, and more.
Socialization
Perhaps the greatest benefit of assisted living communities are the many social opportunities residents regularly enjoy. Living in a community with other seniors can have a tremendous impact on one's physical, mental and emotional health. Every day is another chance to make friends and develop relationships — something that in-home care simply can't match.
Family Relief
Moving to assisted living care not only brings peace of mind to seniors themselves, but also to their family members and loved ones. Knowing their parents or loved ones are in a safe place with compassionate caregivers just steps away gives adult children and other family members confidence. Family doesn't have to worry about hiring, scheduling and managing caregivers.
Cons of Assisted Living
Less Personalized Care
In assisted living communities, a team of qualified nurses, certified nursing assistants, and other team members are always available to take care of residents. While this is generally a positive thing, it does mean that changes in staff might be more common than with in-home care. And while assisted living team members go to great lengths to develop close relationships with residents, in-home caregivers are able to spend more one-on-one time with the individual.
Care Quality Can Vary
Most assisted living communities you would consider will have a history of dedicated, quality care delivered by qualified health care professionals. However, the level of service can vary from one community to another. . What most offer, some may not. For example, some assisted living communities may offer physical and speech therapies as part of living in the community, while others may not. Likewise, some communities may offer a broad range of amenities, while others offer very little in the way of engagement.
Pros of In-Home Care
Tailored Care
In-home care offers a level of personal assistance that most communities can't match. As you can imagine, having just one or two caregivers tend to a single person allows them to customize daily routines, care plans and services to that individual. Caregivers are able to learn the unique preferences of the individual they're caring for quicker than at assisted living communities.
The Comfort of Home
The greatest attraction of aging at home vs. assisted living is the ability to receive care in the comfort and security of your own home. Oftentimes, this means seniors can receive care from family relatives they know and trust. In other cases, a family will hire a trusted caregiver with whom they form a personal relationship. In either case, many seniors today prefer to age in place, where they know they'll be comfortable, rather than move to a new residence with people they don't know.
Cons of In-Home Care
Home Care Cost
Around-the-clock care from a professional caregiver can quickly become unsustainably expensive. While 20- to 40-hour per week rates can be relatively affordable for most families, 24/7  care is significantly more expensive. Furthermore, family duties such as housekeeping, grocery shopping, and home maintenance aren't typically included in basic care costs and will be additional expenses. With these additional duties in mind, the cost of assisted living vs. in-home care is comparatively more affordable.
Scheduling Care
The scheduling and managing of in-home care require consistent family involvement, which places a heavier burden on a senior's loved ones. Arranging back-up caregivers for when the primary caregiver isn't able to work can be additionally challenging. And when a senior needs a higher level of care, such as skilled nursing or memory care, the process of finding the appropriate caregiver or community starts all over again.
Isolation
Senior isolation can open the doors to a wide range of further health risks. Isolated seniors often become depressed and lethargic, which can quickly add to deteriorating health. When a senior chooses in-home care, the only people they might see for weeks may be their caregivers and family members. Without opportunities to socialize, one's lifestyle can seem rather empty.
Your Helping Hand
When choosing between assisted living and in-home care, the best thing you can do for yourself or your parents or loved ones is ask the advice of professionals and do as much research as possible. Here at The Village at Gleannloch Farms, our goal is to be a trusted resource for determining the future of the people you love. Our assisted living care provides help with all the basic activities of daily living, including bathing, dressing and grooming, medication management, personal maintenance, and everything in between. More than that, our team offers a stable shoulder to lean on and works hard to learn every resident's personal preferences to make their lives as fulfilling as possible.
To learn more, please reach out to us through our website or call us anytime at 281-766-8148.