12 Simple and Elegant Crafts for People with Dementia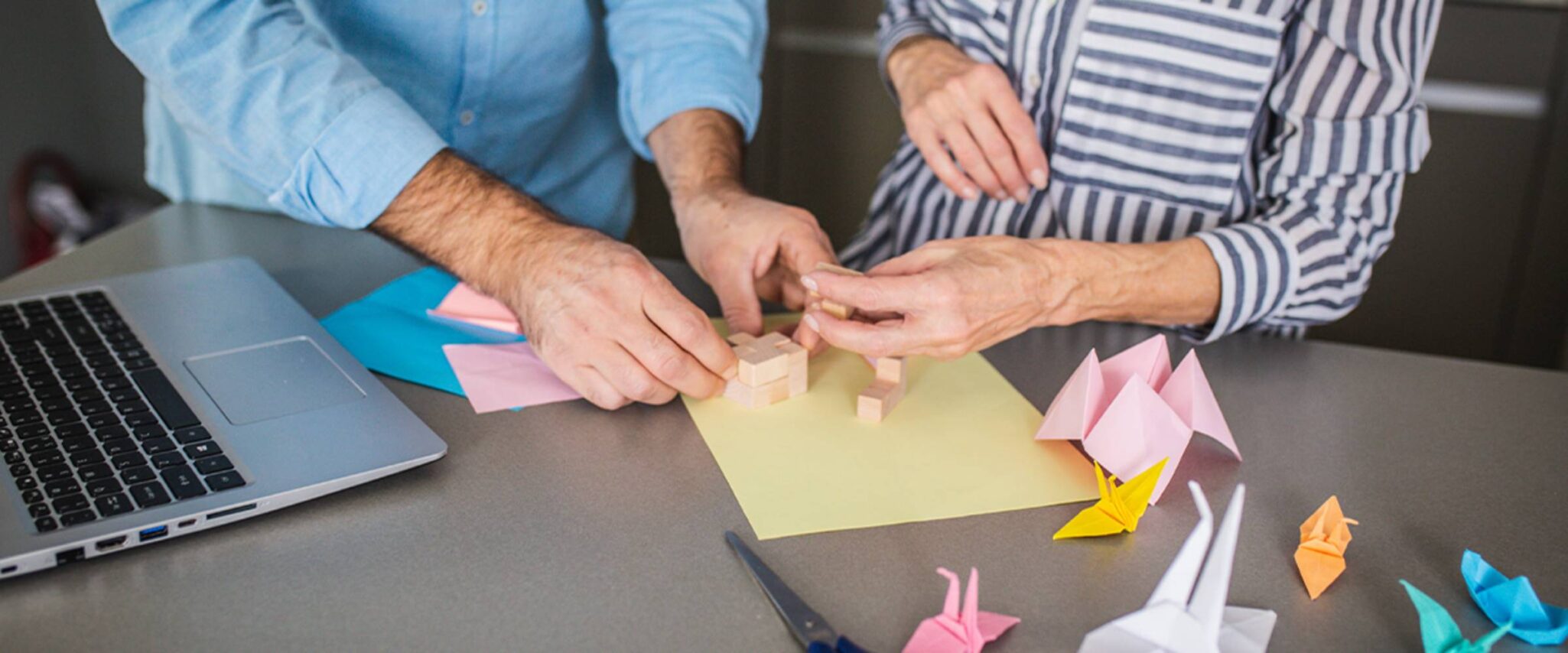 People can tap into the benefits of creativity at any age and stage of life. For people with dementia, creative activities can provide not only a sense of accomplishment, but also a way to challenge different areas of the brain, enhance cognitive function, exercise motor functions such as manual dexterity, and experience the reward and comfort of emotional connection.
When choosing activities for people with dementia, it's important to keep in mind their skills, abilities and interests. While cognitive abilities can change from day to day, the following 12 simple crafts for seniors with dementia can be enjoyed by most people in almost any stage, and are beautiful enough to be given as gifts.
1. Painted-Bead Necklace
Begin with five to seven one-inch wood beads, a few coordinating colors of acrylic craft paint, and small paint brushes of varying shapes and sizes. Paint the beads. When dry, string the beads onto a length of leather or suede cording (approximately one yard), tie the ends in a knot and enjoy wearing your new necklace or give it as a gift.
2. May Day Door Hanger
Revive a tradition from yesteryear by making a May Day door hanger. Start with a square of decorative paper such as scrapbook paper. Roll it into a cone shape and fasten with tape, glue or staples. Punch a hole in opposite sides of the cone opening and thread a length of ribbon through each hole. Fill the cone with real or faux flowers, tie the ends of the ribbons into a bow, and hang on a friend's doorknob as a thoughtful May Day or any-day surprise.
3. Upcycled Glass Containers
With some paint and a little imagination, anyone can transform a glass container into a new vase, a piece of sculptural art or decorative storage. Craft stores sell paint specially formulated for painting on glass, but acrylic craft paint or oil-based paint markers will also work. Customize the color and design to blend in or stand out in any room.
4. Paper Flowers
Why not fill your newly painted glass container or May Day door hanger with a bouquet of hand-made paper flowers? From tissue paper to cardstock, paper flowers can be made from almost any type of paper and in a variety of forms. They can be used to create an arrangement, a garland or even wall décor. And the best part is, no water required.
5. Personalized Mugs
Turning dollar store or thrift store mugs into personalized, hand-decorated gifts couldn't be easier. Use oil-based paint markers to paint the mug with simple designs and colors. When done, let the paint dry for a few hours or overnight. Once dry, set the mug on a baking sheet and place into a cool oven. Turn the oven on to 350°F and bake for 30 minutes. To avoid cracking the mug, turn the oven off and allow it to cool completely before removing the mug. Add some coffee pods, tea bags or hot chocolate packets for a beautiful and useful gift anyone would be happy to receive.
6. Scrapbook
For people with dementia, scrapbooking can be a way to reminisce, jog memories and spend time with a friend or family member. Gather photographs, cards, letters and memorabilia such as ticket stubs. As they're pasted or taped into the scrapbook, write captions to preserve the memories. A scrapbook is not only something a person with dementia will enjoy looking at over and over, but also a great way for them to record memories and leave a legacy for future generations.
7. Decorated Sugar Cookies
A nostalgic and tasty activity, baking is best done with a partner. Use a favorite recipe that brings back memories or purchase pre-made sugar cookie dough. Roll out the dough and cut into shapes with cookie cutters. Once baked and cooled, decorate with icing and candy sprinkles. Then enjoy the cookies with a cup of tea, or delight someone else with a gift of sweet treats.
8. Clay Pot Planter
Purchase plain clay pots. Spray the inside with a clear, waterproof sealer. Use acrylic craft paints to add color and designs to the outside. Allow paint to dry completely, then spray the entire pot with the clear sealer again. Allow to dry thoroughly, then add a plant and place in a sunny window or give as a gift.
9. Decorative Magnets
Purchase large, clear glass "gems" from a craft store or dollar store. With a small paint brush, use Mod Podge® to glue a photo, decorative paper, a map, or even cotton fabric onto the flat side of the gem. Allow it to dry thoroughly, then trim the excess paper or fabric with sharp scissors. Attach a magnet to the back and display your creation on the fridge or any other place you'll enjoy seeing it.
10. Oven-Bake Clay Jewelry Tray
Oven-bake clay makes it easy to create pottery or sculptures without a kiln. Find it at craft stores or even make a DIY version from one of the many recipes available on the internet. Prepare the clay as instructed, then shape it to hold rings, bracelets or trinkets. Following the instructions on the clay package or recipe, then bake the piece to harden it. Once cooled, oven-bake clay can be decorated with paint for added flair.
11. Bookmarks
Bookmarks can be created with just about anything that's flat and thin enough to fit into a book. Use store-bought decorative papers or hand-paint some heavy cardstock. Add a hand-written message or special quote, then laminate the bookmark to keep it protected. Finish by punching a hole at one end and attaching a ribbon or tassel. Craft stores even offer kits for making wooden bookmarks. Simple and fun, bookmarks make thoughtful gifts for the book lovers, and serve as a reminder of love and friendship through all of life's chapters.
12. Knotted Fleece Blanket
Whether to ward off a chill or to give as a thoughtful gift for a new baby or someone going off to college, a knotted fleece blanket is an easy craft that can be completed in just a few hours. Fleece comes in an almost limitless array of colors and designs. Match a nursery theme, show support for a favorite sports team or choose a favorite color. All that's needed are two pieces of fleece fabric cut to the same size, a ruler or tape measure, and a pair of sharp scissors. Instructions are easy to find with a quick internet search.
Each day at The Village at Gleannloch Farms, we make it our mission to enrich the lives of residents with Alzheimer's disease and other forms of dementia by creating success stories and celebrating the abilities that remain. We invite you to explore our memory care services and learn how we can help your loved one enjoy the benefits of connection and creativity every day. For more information, simply call us at 281-766-8148.