9 Closet Organization Ideas to Make the Most of Your Senior Apartment Closet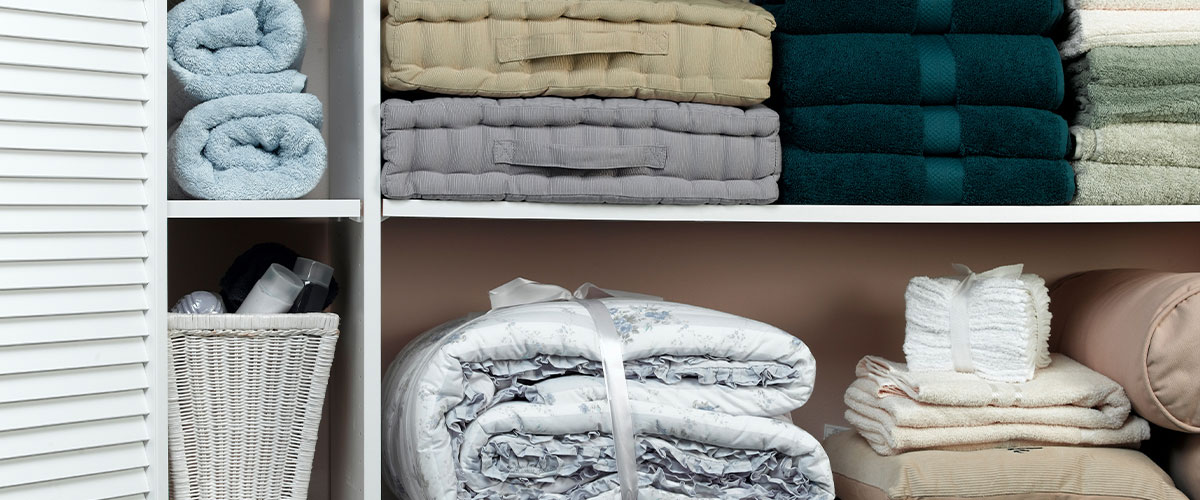 Anyone who's hunted for a new home or apartment will agree that one of the biggest concerns is "how much closet space?" That concern seems to loom even larger if you're downsizing to a senior living community — even more so if the move is out of a closet-heavy family home. Fortunately, there's no shortage of closet organization tips and tricks floating around to make the most of small closet space, along with entire stores dedicated to ingenious closet organization ideas and products.To help get your creativity flowing with clever storage ideas, we've compiled some of the best closet organization ideas from experts — plus a few tried-and-true closet organization tips and tricks from real people who've lived through a move to a senior apartment:
Top 9 Small Closet Storage Ideas
The move-in date for you or your loved one may be weeks away, but it's not too early to begin the storage planning process. It's the best way to achieve the key goals to good closet storage: capacity and accessibility.
Assess the mess
Grab a pad and pencil and take a tour of every closet in your current residence. Make lists of clothes, shoes, equipment, everything. Be prepared to be shocked but stay focused!
Prepare to pare
Be like the home show people on TV. Closet by closet, take everything out and place it into three piles: Keep, Donate/Sell, or Discard. Obviously, the goal is to get tough — do you really need three overcoats? Can you give away some of those office clothes? 
Take measurements
The best option to do this, of course, is to get permission to go into the model or into a similar apartment to the one you're moving into and take actual measurements and photos. Second best? Get measurements and photos from the community website and/or from management. The more you know, the easier it will be to plan how to organize your clothes and other storage needs. 
Know the rules
Every community has its own rules about installing and adding things like shelving and hooks. Be sure to check with management before you purchase or install storage items.
Think orderly
Every closet space (even a tiny one) can hold a surprising number of items with some planning and ingenuity. Many newer senior living apartments include a walk-in closet in their independent living apartments. Smaller units often feature some type of shelving unit along with hanging rods. A few ways to maximize any space:
Shoe rack: Everything feels more orderly when shoes are off the floor on a shoe rack or tucked into a back-of-door organizer
Shelf dividers: Keep the closet shelf tidy with no-installation shelf dividers. Great for separating stacks of pants, sweaters, sheets, etc.
Rod extenders: An easy no-install way to add a second-tier clothes rack. These simply hang over the main rod.
Over-the-door storage: Don't forget the awesome power of back- and front-of-door storage! These clever products simply slip over a door and come equipped with towel rods, baskets, hooks, pockets, mirrors, and more — they might just be the most valuable space savers of all.
Crazy but amazingly useful
From home expert Bob Vila …
Plastic chains (available at hardware or toy stores) can become multi-level hangers. Thread the top one to an S-hook or over the closet rod and slip hangers onto the other links.
Pop can tabs can add hanging options. Slip the tab from a pop can over the hook of a hanger, then slip another hanger through the hole—you gain twice the hanging capacity without taking up more rod space!
Nails on a wood board are an inexpensive, easy way to hang ties, belts, necklaces, scarves and much more. Affix the board on a wall inside a closet. Better yet, have the grandkids decorate it and hang it in your bedroom! 
Don't sweat the small stuff
We've come a long way since the electric tie rack! Now you can find cool closet hangers for scarves, belts, jewelry and much more. Also consider labeled bins and baskets which can fit neatly on those shallow 12-inch shelves and hold a multitude of smaller, hard-to-store items. Remember … when everything has a place, there's more living space for you.
Pack away seasonal stuff and rarely used items
You'll likely have a couple of options for this. Most communities offer storage lockers to residents; they can be small, but any extra space is helpful. If you can add portable shelving in there, do it. If you need additional storage, you can affordably rent temperature-controlled, off-site units as small as 8×10 on a monthly basis.
Resolve to reorganize regularly
As beautifully organized as your closet(s) appear on move-in day, you know how easy it is for a storage space to … get out of control. Once a season, get in there and revisit Steps 1 and 2. You'll be glad you did.Hopefully, these tips and tricks will relieve your small-closet worries. After all, you have great adventures and a wonderful new life waiting for you in your new senior living community.
Ready to explore senior apartments? The independent living residences at The Village at Gleannloch Farms offer walk-in closets and bright, sunny interiors with large windows. Browse our floor plans or, to schedule a virtual tour, simply call 484-320-3250. We'll be happy to show you around and answer all your questions.