6 Ways to Connect with Senior Loved Ones When You Can't Visit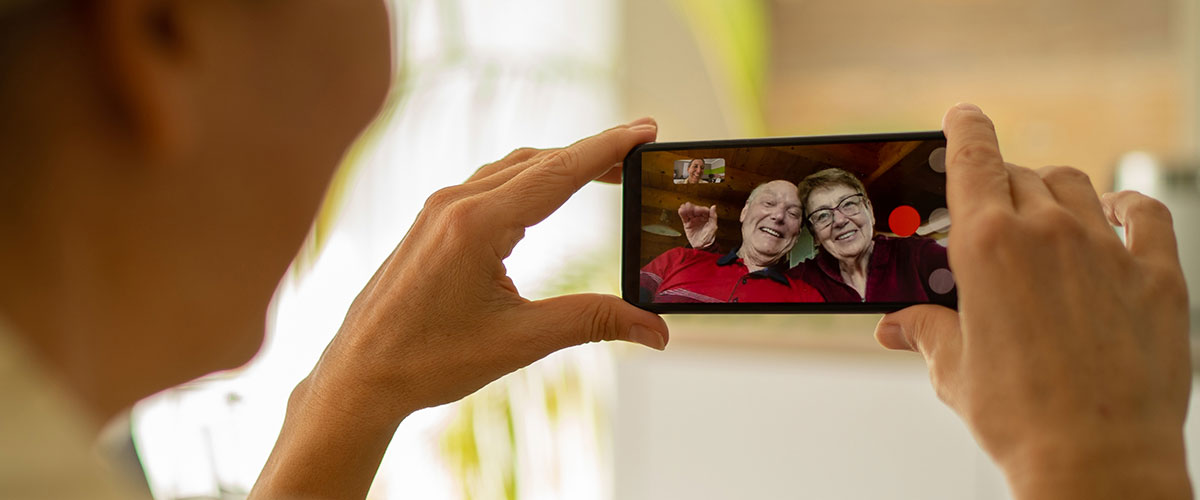 The Importance of Socialization for Seniors
Seniors' social circles often shrink in their later years. Friends and family move away or pass on, and it becomes even more vital to sustain the relationships they still enjoy as well as to build new connections. Studies suggest a healthy social life can help seniors stave off depression and can reduce their risk for other chronic conditions like hypertension and diabetes. In essence, strong interpersonal relationships are a crucial caring for the elderly and avoiding the negative outcomes of senior isolation.
"What if I Can't Be There?"
You may be very willing to help your loved one avoid senior loneliness, but you live far away from your senior loved one or you could be practicing social distancing for your safety and theirs. It's hard to be far from people we care about, but there are many ways to reach out, connect and remind them they're loved.
6 Methods to Keep Seniors Social and Avoid Senior Isolation
1. Phone Calls
Most seniors have access to a phone. Some are still using a landline and others have embraced smartphones. Either way, receiving a call from you could really brighten their day. For added support, you could set up a standing appointment for your calls, giving them something pleasant to look forward to.
2. Letters
Why not take this opportunity to grab a pen and paper send some correspondence through the mail? These letters can become a great documentation of the unprecedented time of social distancing, how you and your loved ones supported each other and checked in. Tell stories about how you and your family are making it through days in quarantine. You can create a unique album for posterity.
3. Texting
Texting is a fantastic way to send a quick "thinking about you" message or a fun picture. If a senior doesn't actively text, it's possible they can still receive messages. For the more tech-savvy senior, you could use WhatsApp for a variety of messaging mediums — text, group text and video chats.
4. Video Calls
A video call may be the next best thing to an in-person conversation to prevent senior loneliness. Research indicates a correlation between video calls and lower levels of depression in seniors because it satisfies the human need for connection better than phone calls or emails. There are several apps and platforms to help you speak face-to-face, including FaceTime, Skype, WhatsApp and Zoom. You could try several until you discover which one is easiest for your senior loved one to use.
5. Care Packages
Show your loved one you're thinking about them by sending a book you enjoyed or a puzzle you think they'd like. Maybe send them a few items to celebrate an upcoming holiday or house plants they could care for. If it's something for their home, they can think of you every time they see it.
6. Sidewalk Chalk
Caring for the elderly loved ones in your life can be really fun. This may not become a staple of your communication techniques, but a colorful chalk design can be a fun way to share a special message. If your loved one has a regular walking route or they can see a sidewalk from their windows, you could leave a fun message in chalk, like "Happy Birthday," "Missing You," or "Love You, Grandma" for all to see. It's a great way to get little kids involved as well.
If you'd like to find out more about how we support the social wellness of our residents at The Village at Gleannloch Farms, please reach out to us. We're passionate about promoting their holistic well-being, and we'd be happy to provide more details.