How Does Speech Therapy Help Seniors?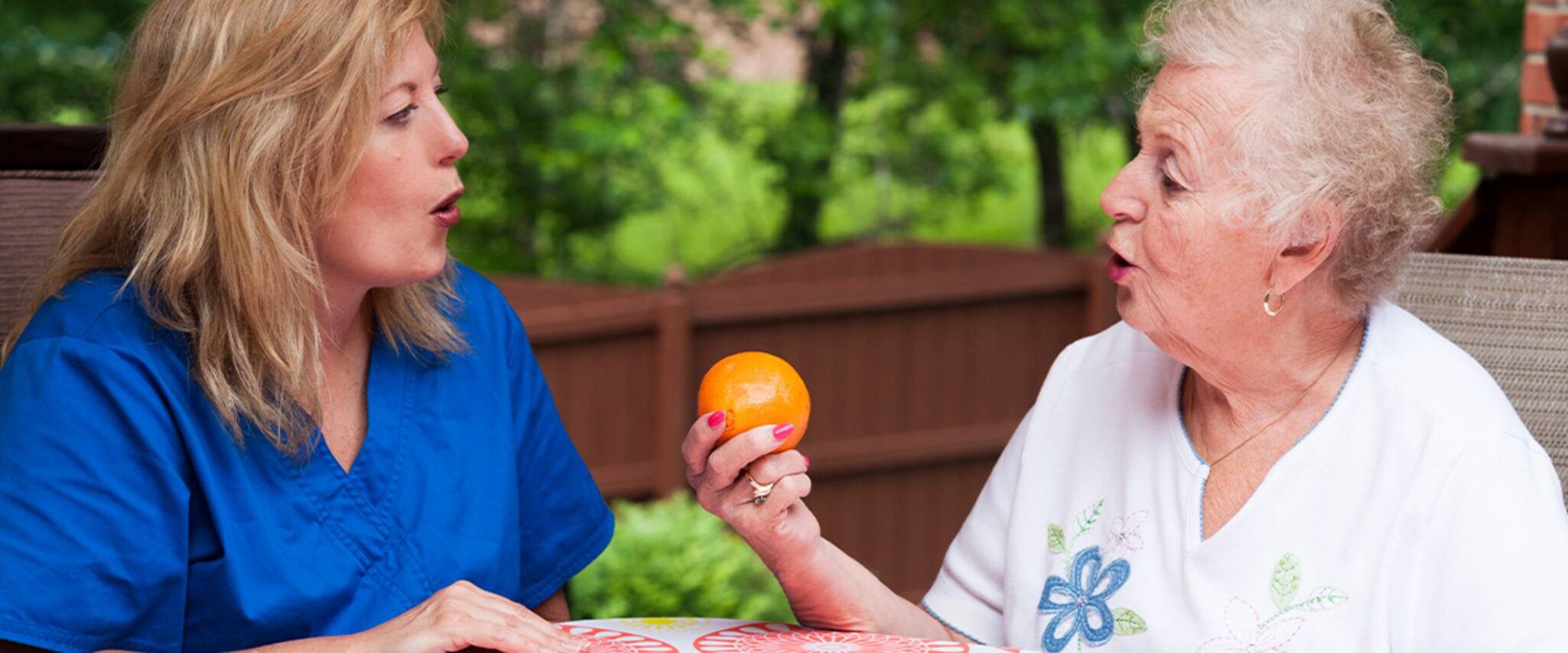 Many people associate speech therapy with childhood speech impediments, but communication is vital for a senior's quality of life. Though the title of this particular therapy seems to indicate a focus on communication, speech therapy can also help with swallowing, eating and remembering. A trained speech therapist can help a senior regain many lost skills and recover from a number of challenging conditions.
When Do Seniors Need Speech Therapy? 
As their vocal cords age
Over the years, seniors can experience increasing voice problems. Many lose muscle mass around their vocal cords, lung capacity diminishes, mucous membranes become drier and fine muscle movement can become more challenging. These changes can lead to reduced projection, decreased vocal stamina, changes in pitch, weakness and shakiness in the voice. Speech therapy can help strengthen and retrain vocal cords so seniors can continue to enjoy a thriving social life. 
When they're having trouble swallowing
Swallowing is an indispensable part of maintaining proper nutrition, but many conditions can cause swallowing problems. Parkinson's disease, dementia, multiple sclerosis, brain injury or spinal cord injury (among others) can affect one's ability to swallow. Medications that cause dry mouth can also lead to difficulty. A speech therapist can work with you to develop muscles in your esophagus and pharynx to make swallowing easier. Therapists can also suggest different types of food and drink, and ways to sit and hold your head to facilitate eating. 
After a stroke
The impact of a stroke can be significant, and the effects can be different for each person. After a stroke, the language network in the brain can be damaged. A speech therapist can take many tacks to help a senior regain communication skills after a stroke, including melodic intonation therapy (if a senior cannot speak a word, they learn to sing it), visual-speech perception therapy (practicing connecting pictures with words) and constraint-induced language therapy (conveying ideas using just words, no visual cues). It's important to treat communication issues so seniors don't become isolated or experience embarrassment or depression. 
When they're diagnosed with memory loss or dementia
Even as dementia progresses, speech therapy with a trained pathologist can help a senior learn to compensate for communication challenges, using gestures, descriptions or circumlocution. Early on in the progression of the condition, therapists can help a senior retain new information with various strategies, for example writing things down, chunking, visualizing and creating a memory book. Speech therapy for seniors with dementia can also include their family and loved ones, offering strategies to communicate effectively: speaking slowly, asking simple questions providing context and visuals, etc. As a senior's verbal ability diminishes, a speech therapist will work more closely with loved ones to help them cue the senior and notice nonverbal communication.
The right therapy team can make all the difference in a senior's recovery progress, health, and emotional well-being. If you're looking for speech therapy for seniors near Spring, Texas, The Village at Gleannloch Farms received U.S. News' Best Nursing Home Short Stay Award for 2019-2020. Our skilled therapy team will work with you to develop an individualized treatment plan to reach your goals. To find out more, we invite you to contact us. We'd be happy to provide further details.